It is a serious challenge and a great job to write a biography of one of the world's greatest rock bands. Fülesbagoly interviewed Adrian Harte, who's put Faith No More's true story on paper after hundreds of hours of conversation.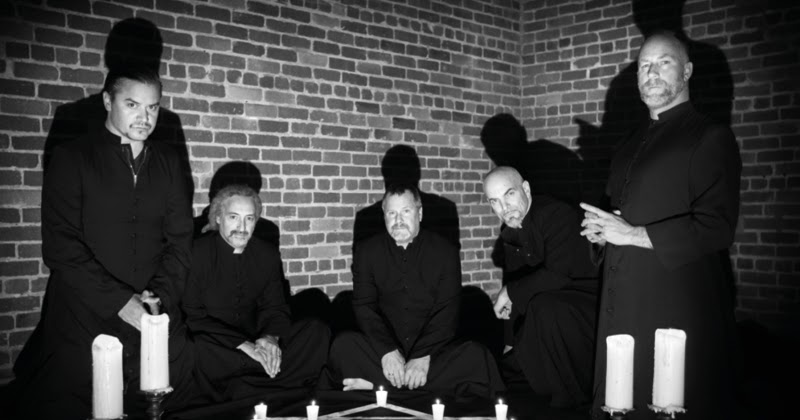 Adrian Harte's book, 'Small Victories: The True Story of Faith No More', is coming to the stores this September. The title refers to one of his favorite songs, 'A Small Victory' from the album 'Angel Dust'. In recent years Adrian has basically sacrificed all of his free time to write the book, and the fans of Faith No More are most likely to looking forward to his creation. The world has never seen such a comprehensive and detailed biography of Faith No More, which also contains many novelties and curiosities for even the most hardcore fans.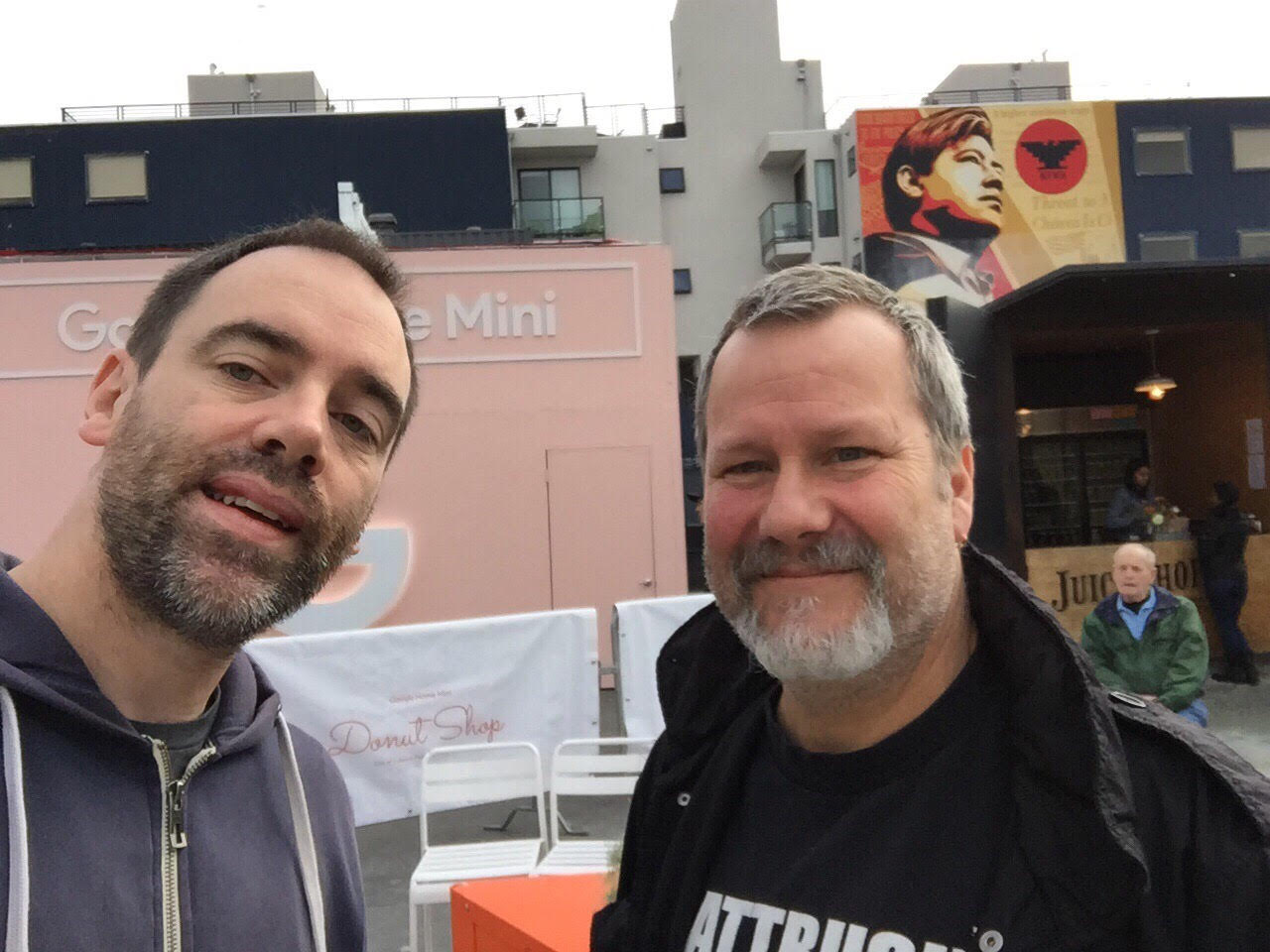 Adrian Harte and Billy Gould
– When did you get to know of the band Faith No More and what did you find the most catching about their music for the first listening? 
A. H.: – I was lucky enough when growing up in Ireland to hang out with a group of mostly older boys who had slightly more advanced tastes, so they switched me on to Faith No More. From aged around 14-15 on I was getting more and more into metal, Guns N' Roses especially, so FNM was a logical step. I also saw a lot of Real Thing era FNM on UK TV – the Raw Power show – and in Kerrang magazine. I also remember watching the Live at Brixton video a lot at my friends' house. 
– Do you have a favourite era from the history of FNM and if yes, which is it? 
A. H.: – The Angel Dust era coincided with me getting more and more into music, and that album really stands the test of time. It reinforced my belief that FNM had a lot more to offer than the other so-called funk metal outfits of the time. The book actually started out as a detailed kind of 'the making of Angel Dust' book, and has grown from there. 
So the book looks into the story behind this fascinating album in great detail. 
Writing the book also gave me a greater appreciation of the Chuck Mosley era, and a strong reminder that Introduce Yourself is a stunning album.
– This is a question which is dividing the FNM-fandom: Chuck Mosley-era or Mike Patton-era? Which lead vocalist made the biggest influence on you?
A. H.: – Up until a few years ago, conventional wisdom was that Mike Patton rescued Faith No More and Chuck was seen as a joke figure. Thankfully, Chuck's reemergence and the band's own reunion led to a reassessment, and his place in FNM history was rightly recognised before his tragic night. Like a lot of people, I heard Mike Patton-era FNM before I even knew that they had a previous singer, so he had the initial impact. And, of course, Patton is unmatched as a vocalist, front man and lyricist. But Chuck was perfect for early Faith No More, raw and untamed and one-off. 
– Do you think that FNM could have become as popular and succesful band as it is today if Chuck Mosley had remained in the position of the lead vocalist? What do you think, would have they been able to make so creative and colourful series of albums if Chuck Mosley had remained in the position of the lead vocalist?
A. H.: – It is an interesting thought experiment. I was actually tempted to include a 'what if' fictional chapter in the book. First of all, it has to be said and the book explains why, the band simply could not have continued to function with Chuck. But, just assuming theoretically that the problems that were there has not existed, it would have been interesting to see what would have come next. I think people would now have been looking at what a wonderful and eclectic little cult band Faith No More were.
– I have a similar question about the guitarists, too. The quitting of Jim Martin is a sore spot for so many fans. Would it have been possible for the FNM to create albums like KFAD or AOTY with Jim Martin's riff-centred philosophy?
A. H.: – I came away from writing the book with a lot more sympathy for JIM – it's tough being a guitarist in Faith No More. The rupture there was a mixture of the musical and the personal, and I just can't see how the band could have continued. There were plenty of riffs on KFAD so the Jim issue was more complex than FNM wanted no more riffs and Jim just wanted to play metal solos.
– Which is your favourite FNM-album? Do you have a favourite song?
A. H.: – I think I pretty much answered this above. Always Angel Dust. And my favourite songs are from that record. Midlife Crisis is just perfection, the epitome of Faith No More for me. As the book title suggests, I also love A Small Victory. As a big football and sport fan, I've used the 'A sore loser/ Yelling with my mouth shut' lines a lot over the years. The Real Thing is also a remarkable song. I have some new favourites since working on the book especially Chinese Arithmetic.
– What was your first reaction when you heard about the upcoming Sol Invictus album after 18 years of silence?
A. H.: – Excited and apprehensive. Hearing the album itself got rid of the apprehension and as soon as I heard Separation Anxiety I knew this was one of the great comeback records.
– How many FNM-concerts have you been to and if you had to pick one, which one was the most remarkable and unforgettable for you and why?
A. H.: – I only saw FNM 1.0 twice (in Slane supporting Guns N' Roses in May 1992 and in Dublin in November 1992) as I was young and not really able to travel to see them outside Ireland. Since the reunion, I've seen them 12 times in eight countries. All great so hard to pick a favourite. Meeting the band for the first time in Prague in 2009 was amazing but actually walking out on stage with the band in Belgrade in 2012 was an unforgettable experience.
– How did you get to know with the members of the band and how would you describe your relationship with them: simply professional or is it friendly?
A. H.: – I got to know the band through the blog. They've always been great with fans, and loved the blog. I'd say with most of them it's more than professional and pretty friendly. 
– We, fans, only had the chance to get to know the members through the interviews. How would you describe their personalities, what kind of guys are they in common? 
A. H.: – I think that might come across better in the book. One thing that unites them all is a keen intelligence and independent thinking. They're smart, funny, and really love the band.
– I'd really appreciate if you could tell us about the workflow that has led to the book's completion. How many interviews and meetings did you have with the members? Were there any memorable moments which you will never forget?
A. H.: – Initially, there were a lot of phone calls and emails. About 20 hours of calls with Mike Bordin alone! Then, I spent two weeks in San Francisco where I spent time with Mike, Billy and Jon, as well as former members Mike Morris and Wade Worthington. I did over 100 interviews and interviewed 43 people, from current and former band members to record company executives, video directors and childhood friends. I did a lot of the writing and research after work and at lunchtimes and at weekends, as I work full time. As soon as I got a publishing deal in July 2017, I started working every spare hour. I went to San Francisco in November and then wrote and wrote. I spent Christmas Day with my family but spent the rest of the Christmas break writing on my own, and then took two weeks holiday in February writing 16 hours a day to finish it before my March deadline. It was a real labour of love. I also spent a lot of time selecting photos. I got loads from the band themselves that have never been seen before, as well as many from top photographers like Mark Leialoha and Dustin Rabin. It was a tough but enjoyable task choosing the 60 most interesting shots to use in the book. 
– How many countries are you planning to distribute your book in? Is there any chance that it will be translated to Hungarian?
A. H.: – The book will be available everywhere, either in local bookshops or on Amazon. It's already available for pre-order here: http://geni.us/YdG3. And in Hungary: http://bestsellers.hu/art-design/Small-Victories9781911036371. That's in English only, print and digital. I'm hoping that it will be translated into other languages, certainly Spanish and Portuguese. Have had interest for a Bulgarian edition and if there is a Hungarian publisher interested then I'd love to hear from them, as I know it would sell in Hungary.
– How do you see the future of Faith No More? Do you think that they will produce another album?
A. H.: – I honestly don't know but I don't think they'll tour and tour again without a new record.
– You operate the biggest fan-page of the band, the FNM 2.0. How much work do you have with it and how do you get to know of the latest news related to FNM?
A. H.: – I used to do lots and lots. Initially, the news came from a lot of Googling and tip offs. I'd also hear stuff and check in with the band, and they would occasionally put news out through the site. Social media has changed things so people are less reliant on blogs. So that and having less time with a young family meant that I scaled back the blog a bit. And, working on such a detailed and involving book then took up all my spare time for a year. But as soon as the band get active again, I'll fire it up again. 
– Please tell us about yourself. What is your profession? Do you have a family? If yes, how are they thinking about your enthusiasm with Faith No More?
A. H.: – I used to be a journalist (for the BBC and The Guardian) but I've worked for UEFA (the European football governing body) for almost 20 years in the web and communications departments. I live in Switzerland and have a young family. They've been wonderful with the book and put up with me disappearing to write. I think it will only be real for my little boy and girl when they actually see the physical book itself. 
Máté Sándor – Sütő Dániel